How to Create An Elegant Peacock Inspired Bathroom 
Peacock decorations for the bathroom are glamorous and colorful indeed.  If you want a glamorous, colorful, nature-lovin' bathroom, this is the way to go.  Your peacock inspired bathroom
will be a constant joy to you and your guests.
Your color scheme can come from a wide range of peacock colors ranging from blues and teals to more natural shades of white and beige.  Clear your bathroom of all former decor and let's get busy!
Pretty as a Peacock Shower Curtains
Remember that your
peacock shower curtain
takes up more actual space than any other item you will purchase for your new peacock bathroom.  Any one of the stunning peacock shower curtains will be beautiful.   Choose your shower curtain first — everything else in your peacock inspired bathroom decor plan will need to blend well with the shower curtain.
Always click to read details. Some of these gorgeous peacock shower curtains include the rings.
Peacock Decor Shower Curtain Set
Beautiful Peacock Pattern
Beautiful Peacock Shower Curtain
Ambesonne Peacock Decor
&
---
Pretty as a Peacock Bathroom Rugs
Your bathroom rug can even be elegant if you like.  I like to have at least two
bathroom rugs
so that I can interchange them for a quick new look.   Consider using a solid color bath mat that matches your perky peacock bathroom for a change.
CozyBath Peacock Feathers

Pretty Peacock Blue Rug for Bath

Beautiful Peacock Tail Feathers Bathroom

Green Peacock Feather Pattern

&
Peacock Bathroom Accessories
Your peacock decorations for the bathroom can be functional as well as beautiful.   Choose items that work for you and your family to insure that your perky
peacock bathroom decor
is indeed lovely and not too "busy".   See that retro peacock pattern soap dispenser below?   It is basically a solid color with a bit of peacock.  If you already have a gorgeous showy peacock shower curtain, and a wild and wonderful piece of peacock wall decor, keep your accessories simple.
Decorative Marrakesh Peacock Rosie and Alex's Bath Seats

Retro Peacock Pattern Bathroom Soap Dispenser

Boudoir Collection Boxed Tissues Paisley Peacock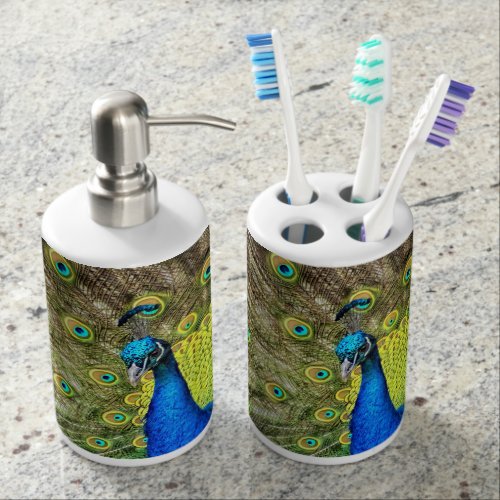 Peacock Soap Dispenser & Toothbrush Holder

&
---
Peacock Decorations for the Bathroom Walls
Your peacock inspired bathroom will come to life with beautiful wall decor — whether you decide to use framed pictures or sculpture.  The peacocks are so very showy and gorgeous, I am thinking the smart thing is to select 2 or 3 beautiful pieces and mix with solids.   In other words, be careful not to overdo so that your peacocks have a chance to shine on their own.   Any one of these pieces of wall decor would add to your perfect peacock bathroom decor.
Bejeweled Display® Peacock w/ Glass

Pretty Peacock Wall Decor

Peacock Canvas Art Prints

Metal Elegant Peacock Wall Art

&
Peacock Bathroom Products On Zazzle
Zazzle is great fun to shop when you are looking for something unusual. The products are created by people like you and me who have artistic talents and/or wonderful photos to use on products. Some of the products can be customized with your monogram or favorite quote, so it's always a good idea to spend a few minutes at Zazzle when you are redecorating your bathroom. You can see more products in any category by clicking on one of my favorite peacock finds here: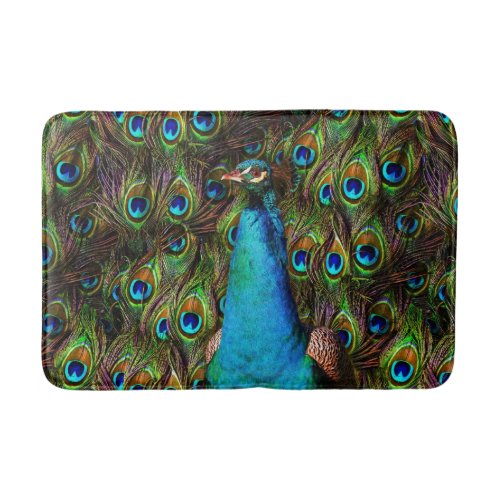 This peacock is watching you! Bathmat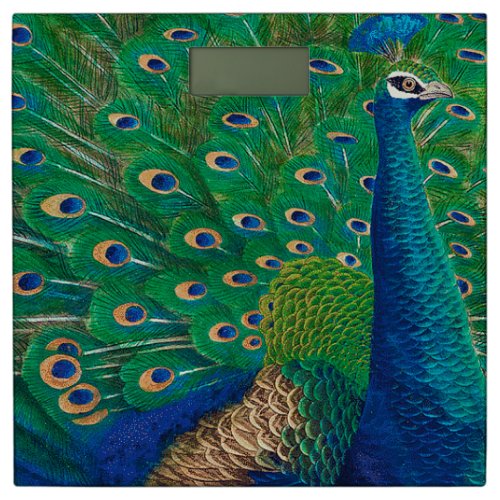 Peacock BATH SCALES Bathroom Scale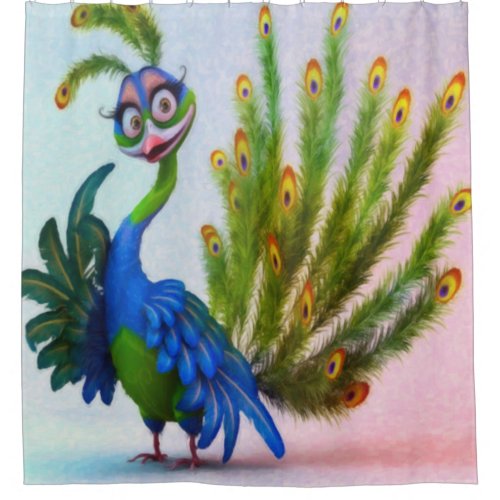 Prissy Peacock Shower Curtain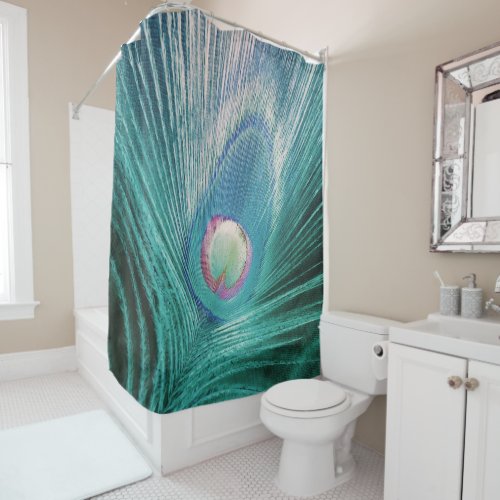 Feather Dancer Shower Curtain

&
Why Create a Peacock Inspired Bathroom ?
If you love peacocks for their magnificent colors, the shape of the fanned feathers or the spirit of such showy magnificence – you will enjoy your peacock inspired bathroom.  Does a peacock remind you to show off your best self every day?   To show your true colors?  To be proud of who you are as a person?   Whatever your reason for choosing peacocks, I know that your result will be a very pleasing
peacock bathroom decor
.  How could you possibly go wrong with these beautiful creatures of nature?  Enjoy the project.  Enjoy your new bathroom.  Allow the peacocks to inspire you.