Jolly Santa Claus bathroom decorations for whimsical fun Christmas decor in the bathroom.   Let your imagination go wild.  In our house, we enjoy laughter and fun all year, but especially at Christmas time.   Your Santa bathroom decorating
adventure begins with shower curtains and includes everything from toothbrushes to bathroom sprays for the holidays
.  Have a happy Ho Ho Ho with Santa Claus bathroom decor this year!  How will you add Santa to your bathrooms this year?

Santa Shower Curtains for Christmas
One of the quickest ways to begin your Santa bathroom decor is with a Santa Claus shower curtain
and hooks. Shower curtains cover so much space and are so simple to change, they are the obvious starting point in your Christmas decorating spree.   And you have a wide choice of colors even with the basic red and white.
Santa Claus Shower Curtain
GoodbathSanta Claus Shower Curtain
Santa Claus in Flight
Santa Claus Shower Curtain Hooks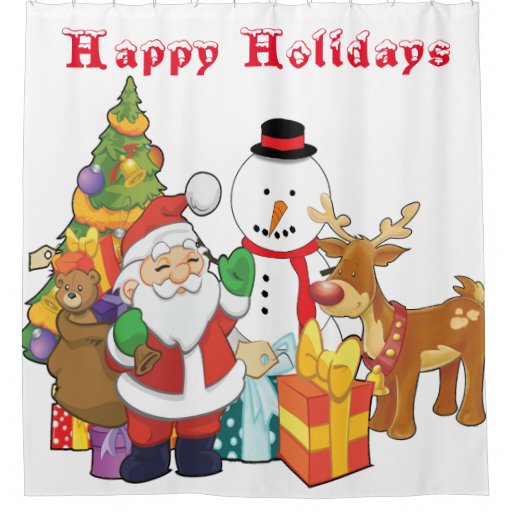 Christmas Menagerie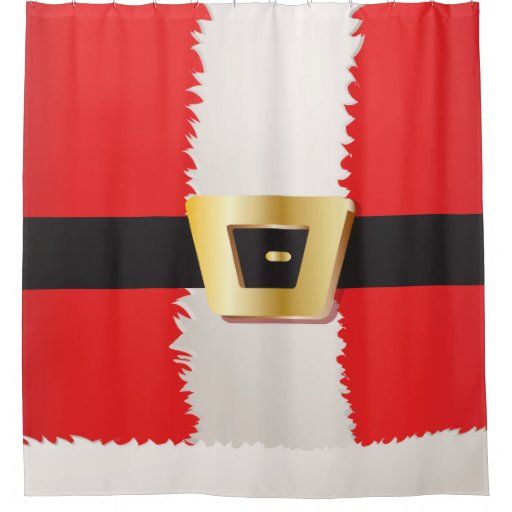 Santa Shower Curtain

---
Your Santa bathroom can smell sweet all through the holidays if your family and guests use this super poo pourri Santa . I know you thought it was a joke, and so did I. But this Secret Santa product works. Your guest just needs to spray the product into the toilet before he/she sits down. Voila – no ugly bathroom odors.
Your family and friends will certainly be more comfortable just knowing that the Santa PooPouri
is available. And yes, they will likely giggle a bit — and that's a good thing.
The Santa poo-pourri
can fits right in to your Santa bathroom decor — it looks pretty and serves a great purpose.
---
Santa Toilet Paper Holder and Toilet Paper
Of course, your toilet paper needs a Santa theme or a Santa holder. Add a touch of fun to the most basic bathroom supplies.  You can even get a singing toilet tissue roll
if you like. These two Santa toilet tissue items are my favorites.
Santa Toilet Paper Christmas Holder

Christmas Toilet Paper – Sitting Santa – Set of 6

---
Santa Claus Bathroom Decorations for the Vanity
Santa Claus Toothbrush Holders, cups, and even Santa toothbrushes are easy ways to add to your Santa themed bathroom.  Look through your Christmas decorations boxes for small items you can add to your bathroom for the holidays.   The difference is in the details, right?   A Santa light switch
cover or a small string of Santa light
s can add a touch of wonder for a child's bathroom.   Have fun with the whole idea.  Recruit the children to help discover items that will add to the Santa theme.
Santas w/ Presents Toothbrush Holder

Santa Claus Red Bristle Toothbrush

Santa's Holiday, Red/Green/White

Jolly Dancing Santas Toothbrush Holders

HOHOHO Santa Claus Laugh Snow Blizzard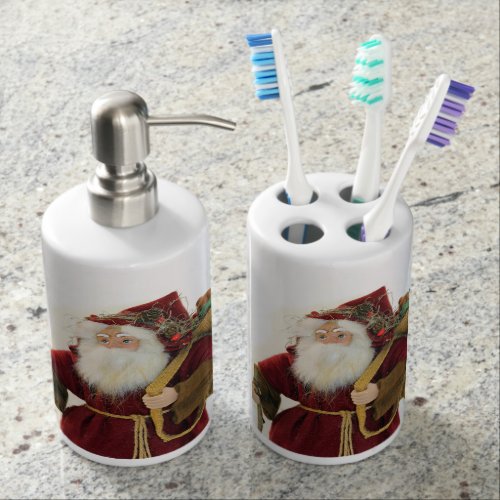 Christmas Decor Soap Dispenser

---
Santa Claus Bathroom Sets and Toilet Toilet Decor
These fun Santa toilet sets make me smile every time I see them!  Don't you?  Besides that, your guests will smile, too!  Ho!  Ho!  Ho!   Santa makes everybody giggle!  Ho!  Ho!  Ho!
Toilet Tattoos TT-X610-O Santa Up On A Roof Decorative Applique For Toilet Lid, Elongated

Christmas Bathroom Toilet Cover and Rug Set – Santa Reindeer

Christmas Decoration Happy Santa Toilet Seat Cover and Rug Set 3Pcs

Zebratown 3 Pcs Christmas Decorations Happy Santa Claus Toilet Tank Lid Cover + Floor Mats Plus + Towel Sets Toilet Sets for Christmas (Christmas snowman)

---
Without a doubt, Santa Claus bathroom decorations are indeed a fun way to decorate for Christmas.  Your children and/or grandchildren will be delighted to see the jolly Saint Nick in the bathroom and the adults in the family will chuckle a bit too.


Looking for More Holiday Bathroom Decorating Ideas?
Christmas Bathroom Decorating Ideas
Halloween Bathroom Decorating Ideas