The best fishing themed bathroom decor can happen easily with a few of these ideas and products.
Serious fishermen love to catch the best, biggest and most fish.  Even a beginner is thrilled with "the best" little fish.  I know that thrill–  that feeling when the fish grabs the hook and pulls the line downward to get deeper in the water.  Your fishermen will enjoy being reminded of those exciting moments in their special fisherman bathroom decor
.
Click any item on this page to see even more fishing themed decorative touches.  My nephew is a bass fisherman.   Earlier today, I even spotted a large mouthed bass shower curtain. I think that shower curtain would make a great birthday gift for him.  Help your favorite nephew decorate his own fishing themed bathroom.

Fishing Shower Theme
——-
Gone Fishing Cotton Shower Curtain

Fly Fishing Cotton Shower Curtain

Fishing Bathroom Accessories
Items like this toothbrush holder and the toilet paper reel will be musts in my fishing themed bathroom decor.  In fact, any one of these unique fishing items would make cute Christmas gifts for the fisherman/woman on your list.
Born to Fish toothbrush Holder
Fisherman's Wooden Toilet Paper Reel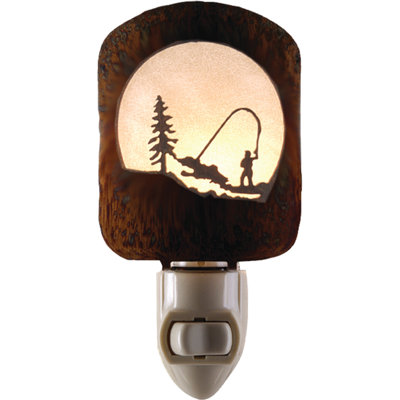 Fly Fishing Scene Night Light

Keep Calm and Learn To Fish
Fishing Bathroom Rugs and Towels
Add a fishing bathmat like the one below and a few fishing bath towels to complete your theme.  Whether you are decorating a fishing cabin bathroom or a bathroom in your home, your fishing family and friends will compliment your originality.
Avanti Linens Rather Be Fishing Rug, Multi
Avanti Rather be Fishing 3-Piece Towel set
More Fishing Themed Bathroom Decor Ideas
Add a fishing magazine
to the bathroom library.  An old beat-up bait bucket would make a good magazine holder.
–Use old fishing rods as towel racks.  Recycle and have unique towel racks that look great.
–Add a fish themed stained glass window.

Born To Fish Bathroom Accessories
Someone you know who is among the "born to fish"?   I personally think we are all "born to fish" but if someone in your house proclaims that loudly, maybe it is time to honor them with their own born to fish bathroom
accessories.
Bacova Guild Born to Fish Lotion Dispenser

Bacova Guild Born to Fish Soap Dish
Bacova Guild Born to Fish Tissue Holder
Bacova Guild Born to Fish Shower Curtain
Ideas for your fisherman bathroom decor are as endless as your imagination.   Create a room that makes you and your friends and family smile.