Blue gray bathroom ideas to beautify our home and our lives. Refreshing! Clean! Relaxing! Just thinking about the names of the colors is calming. Imagine going into your newly decorated bathroom at the end of a long difficult day. Ahhhh. A warm bubble bath
surrounded by the calming color tones is perfect before a good night's sleep.  In the morning, begin your day with a shower in the peaceful surroundings.
Have you really looked at your bathroom recently? I did. Quickly I realized how much I need to work toward a new look. Blue gray bathroom décor is just the perfect answer. The guest bath is dark, dreary, and depressing. My own bath definitely shows neglect. With that in mind, I am sharing with you the best ideas I have found to refresh these bathrooms with blue and gray bathroom ideas..
Blue Gray Shower Curtains
The new shower curtain should be the first item on the list. The theme for blue gray bathroom décor is set by this, the largest item in the room. Which of these appeals to you?  There are blue gray shower curtains, blue shower curtains and gray shower curtains – oh the choices!
Thistle Shower Curtain Gray/Blue

Adele Shower Curtain, Gray/Blue

Forest Shower Curtain, Blue/Gray

Karlyn Shower Curtain, Gray/Blue

Fabric Shower Curtain, Navy

Lillian Shower Curtain, Gray

Blue Gray Bath Towels and Bath Mats
Linens are logically next. Do the towels need replacing? Can some of the old towels be used as tones of the new color palette? Hand towels for guests should reinforce the new color choice.
Pebblz 34-Inch by 21-Inch Rug

Sand Dollar 34-Inch by 21-Inch Rug

Alexa Hand Towel, Blue/Gray

Coastal Gray, Bath Towel

Accessories for Your Blue Gray Bathroom Decor

Add your very own personal touch to the blue gray bathroom décor with new or old accessories.  Remember white looks beautiful with the blues and the grays, too.  Decorative bathroom accessories are the easiest way to personalize your space.  These items can be changed easily for a new look for holidays, seasons, or just because you are in the mood for new colors.  Blue gray bathroom ideas and accessories are fun to discover, rearrange.  Try something new every few months to update your blue gray theme.
Hot Selling Practical White Toothbrush Holder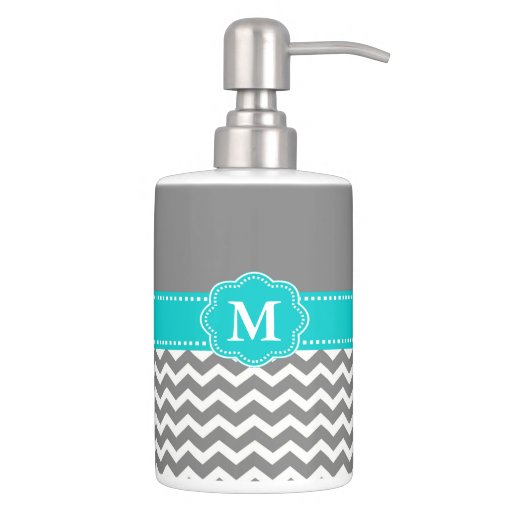 Gray and Blue Chevron Monogram Bathroom Set

Concrete Toothbrush Holder

Spa Stone Dispenser

Blue Gray Birds and Animals for Decorating Accents
Have you considered adding animal or bird accents to your bathroom decor? My first thought in the blue gray area was the Great Blue Heron. With plumage of blue and gray, this gorgeous bird would fit perfectly with your new decor.
Little Blue Heron Wading
Great Blue Heron Sculpture
In the animal family, you could choose elephants or dolphins – either would work with your blue gray decorating theme in your bathroom. In this house, we are definitely dolphin fans.
Elephant Toilet Paper Tissue Holder
Dolphin Toothbrush Holder
Everybody needs a smile. I firmly believe every room needs a touch of whimsey, even a little silliness if that suits your personality.  Even a color scheme as sophisticated as blue gray bathroom decor can use a spot of humor.  Do add something to your bathroom that will encourage a grin or a smile. We need all the smiles we can get, right? You can click on any one of these fun items to see more. Have fun!
Whimsical Flowerhead VaseModern Artisans
Whimsical Copper Snake SculptureModern Artisans
Handpainted Fish Wall SculpureModern Artisans
Blue Seahorse Sun-CatcherModern Artisans